Joe Biden's ultimatum to fire a Ukrainian prosecutor investigating the energy firm Burisma, which had hired his son Hunter Biden, appears to have been an impulsive decision made a month before the 'quid pro quo' threat was issued.
The genesis of the Ukrainian ultimatum developed amid the former vice president meeting with Hunter Biden's business associates and his son being kept in the loop via official government emails.
The origin of Biden 'quid pro quo' to withhold a billion-dollar loan guarantee if Ukraine did not fire the Ukrainian Prosecutor General Viktor Shokin broke with prior documented State Department policy, which had even gone so far as to conclude that political observers in the Obama administration were "super impressed" with Shokin's anti-corruption efforts.
Newly revealed emails and documents revealed by Just the News provide critical context and document the evolution of Joe Biden's threat to Ukraine.
"Many of the documents… were not public during Donald Trump's first impeachment and conflict with the Democrat narratives that have dominated since," journalists John Solomon and Steven Richards wrote.
The critical takeaway is that the threat to the Ukrainian prosecutor appears to have been a sudden about-face for the Obama administration. Prior documents from the State Department as late as September 2015 show that there was a general consensus that Shokin's anti-corruption efforts were considered to be "impressive."
But a State Department memorandum produced on November 22, 2015 and procured by Just the News reveals the suddenly hard pivot towards the Ukrainian prosecutor.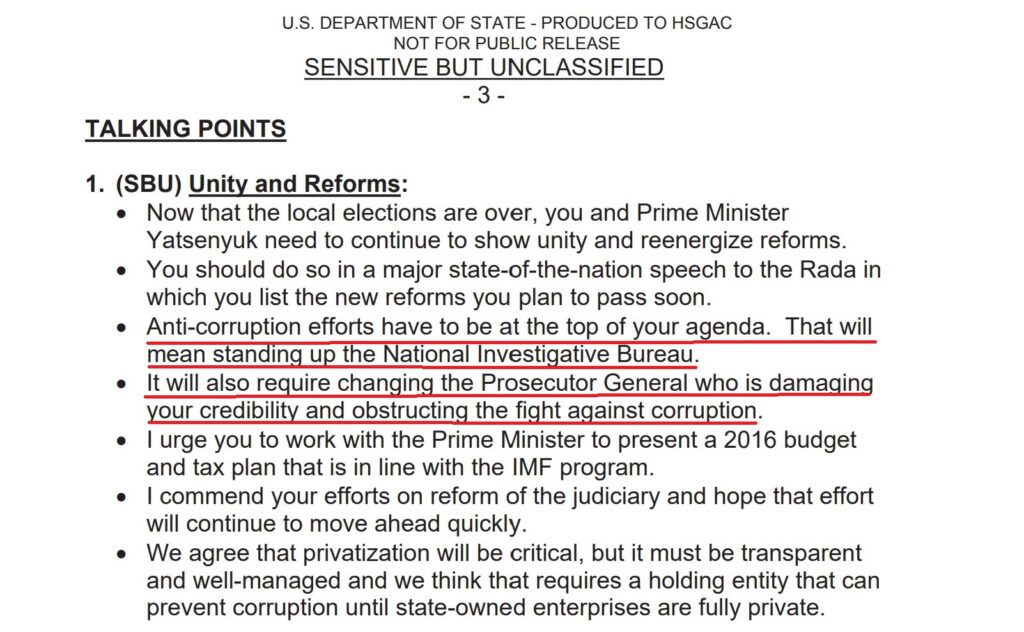 As the November memo shows, the "talking points" for a meeting with Ukrainian President Poroshenko suddenly included confrontational language, such as "Anti-corruption efforts have to be at the top of your agenda… That will means standing up to the National Investigative Bureau."
More pointedly, the memo added, "It will also require changing the Prosecutor General who is damaging your credibility and obstructing the fight against corruption."
Shokin's resignation would come the following spring after a phone call that Joe Biden made to Ukrainian President Poroshenko.
In February 2016, Joe Biden contacted Poroshenko, following a report from Ukrainian news outlet Interfax that Prosecutor General Viktor Shokin had ordered a raid on the property of Mykola Zlochevsky, the founder of Burisma. Shortly after, Shokin tendered his resignation, and Ukraine's parliament voted to oust him the next month, according to the Kyiv Post.
Joe Biden's turn against Shokin appears to have come after his meeting with Hunter Biden business associates, including a Burisma executive in spring 2015. Joe Biden met with at least 14 of Hunter Biden's business associates between 2009 and 2014, according to White House visitor logs.  Devon Archer testified that Joe Biden had spoken at least 20 times with Hunter's business associates.
The most important of Joe Biden's known business meetings was a dinner he attended with Hunter's associates from Ukraine and Russia at the Café Milano in Washington, D.C. on April 16, 2015, according to records on Hunter Biden's abandoned laptop. Documents show that Joe Biden planned to meet with Burisma executive Vadym Pozharskyi, Moscow Mayor Yury Luzhkov, and his wife, Russian billionaire Yelena Baturina.
Joe Biden had dined with Baturina a year before in 2014, according to records. The Russian oligarch had made a series of wire transfers between May 6, 2015 and Dec. 8, 2015 that went through Hunter Biden's firm Rosemont Seneca Partners amounting to $3.5 million. These were labeled as "loan agreements." Under President Biden's presidency, Elena Baturina would mysteriously escape sanctions on Russian oligarchs.
But the hard turn against Shokin appears to have only arisen in known U.S. foreign policy in mid-October, after Joe Biden met with Hunter Biden associate Amos Hochstein and just two weeks prior to Vice President Biden's rushed December 6, 2015 visit to Ukraine.
Hochstein had visited the White House three times in October 2015, with two of the visits occurring in the West Wing and the other on the second floor of the West Wing, according to his testimony. He would accompany Joe Biden on that Ukraine trip. He would later go on to become a special presidential coordinator for President Biden.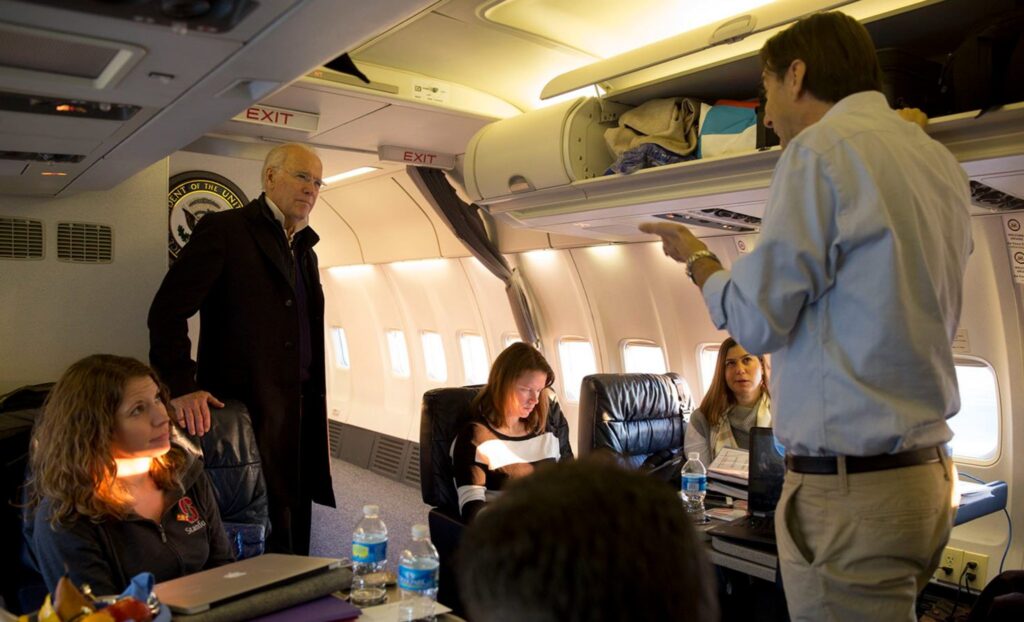 Speaking to the Council on Foreign Relations in September 2016, Biden had openly discussed his role in pressuring Poroshenko to dismiss Shokin. He recounted, "You remember last year I was authorized to say we'd do the second tranche of a billion dollars. And he didn't fire his chief prosecutor. And because I have the confidence of the president, I was there, and I said: 'I'm not signing it. Until you fire him, we're not signing, man. Get it straight. We're not doing it.'"
As Just the News pointed out, "The abrupt shift came as a surprise to Poroshenko and, it turns out, the Nov. 22, 2015 memos were even a bit of a surprise to Geoffrey Pyatt, the U.S. ambassador to Ukraine, according to testimony Pyatt later gave Senate investigators."
"I can't help you on that," Pyatt told Senate investigators when he was later shown copies of the Nov. 22, 2015 memos. "If you look on the clearance page you will see that I actually didn't see these documents until you guys sent them to me."
While Pyatt wasn't able to provide many details about the decision to press for Shokin's firing, he claimed that an incremental shift had occurred at some point.
"What I can tell you is that there was a gradual evolution in the thinking of the interagency community about these issues," he testified.
But that doesn't square with the memo's departure from high-level State Department assessments of Shokin that were recorded as late as September 2015.
Pyatt would later concede that a political principal like Joe Biden may have ultimately decided to change policy.
"This is an imperfect art," Pyatt said. "And what it ultimately comes down to is the principal's decision, and, you know, in this case how the Vice President based–and there would typically, before a big trip like this, a day or two before he got on the airplane there would have been a deputies' or a principals' level discussion."
"I would imagine, based on my conversations with him that the Vice President also would have a discussion with the President," he said, adding that Biden would likely say something like, 'Hey, boss, this is what I'm doing,' and, you know, take it from there."
As noted by Solomon and Richards, Joe Biden "has maintained since the 2019 impeachment case against Trump that his leveraging of the $1 billion loan guarantee to force the firing of Shokin was simply a matter of carrying out U.S. policy crafted by career officials."
Such an explanation for a 'quid pro quo' threat that eventually led to the impeachment of former President Donald Trump obviously now has glaring holes.
Hunter's business associate Devon Archer said in an August interview with Tucker Carlson that Shokin was viewed as a "threat" to Burisma.
Ep. 13 Part 2. Devon Archer pic.twitter.com/R1sxSuPrKq

— Tucker Carlson (@TuckerCarlson) August 4, 2023
Archer stated that the Biden family name shielded Burisma from legal issues, keeping the company operational. He also declared it was "categorically false" to say that Joe Biden was unaware of his son's business activities.
The House Oversight Committee discovered bank records indicating that the Biden family and its business partners had earned over $20 million from international dealings involving Ukrainian, Russian, Chinese, Romanian, and Kazakh entities.
Contradicting Archer's claims, the President dismissed his testimony as "not true" during an interaction with Fox News reporter Peter Doocy on August 9. The White House had earlier asserted that Joe Biden was "not in business" with his son. Obviously, Joe Biden's claim that he had nothing to do with Hunter Biden's business has been conclusively disproven.
Thus, it is quite possible that the impeachment of a president was based on a lie.
NOW READ:
House Oversight Blows Lid Off Biden Scandal: Emails Expose Corruption Scheme 'Without a Shadow of a Doubt'